Description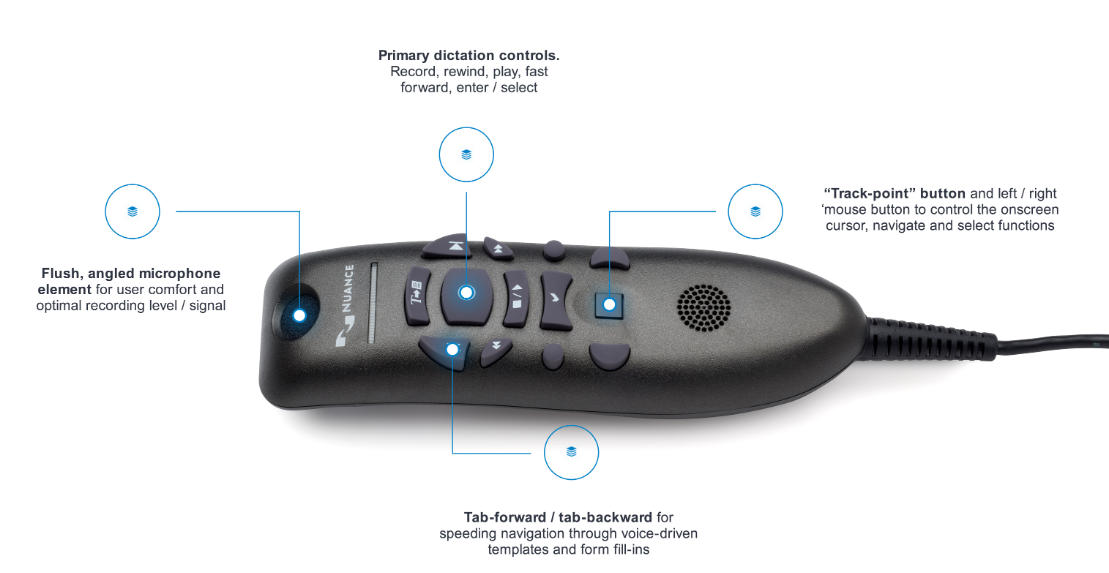 Ergonomic, thumb‑control operation
PowerMic allows clinicians to easily control standard diction and speech recognition functions with PC mouse functions for higher levels of dictation speed, ease‑of‑use and productivity.
Plug & play installation
USB connectivity with plug‑in installation eliminates the need for sound‑card enabled PCs.
Advanced, accurate dictation
Unidirectional microphone with noise‑cancellation ensures higher accuracy even in the noisiest environments.
Nuance PowerMic III
Ergonomic handheld speech recognition microphone for enhanced productivity. The Nuance® PowerMic IIII is a handheld
microphone featuring simplified, thumb-control operation (for dictating, editing, navigating and reviewing documents
using speech recognition), programmable buttons and integrated mouse functionality. It is ideal for professionals who are
looking for new levels of dictation speed, ease-of-use and productivity. Robust and ergonomic design.
With its robust and ergonomic design, the PowerMic III can travel with you anywhere to get your documentation job done.
As an example, police officers or other personnel who may want to fill out forms, write detailed case notes or file reports
when they are out of the office, can quickly and easily pick up the PowerMic III, turn it on and start working. In situations
on-the-go with more ambient noise, a microphone may give better accuracy than using a built-in laptop mic and the
PowerMic III is faster and more convenient for these professionals to use than putting on a headset. Full dictation control
The PowerMic III advances professional dictation to a new level, making it easier and faster to control voice recording,
navigate and select fields in on-screen templates and standard reports and move throughout recognised text reports for
review and editing. In addition to providing complete dictation control, the PowerMic III incorporates full-function,
Microsoft® compatible, PC-mouse capabilities into the microphone to reduce the need to continually move between the
microphone, mouse and keyboard when working with documents.
Using the PowerMic III, users can rapidly navigate report template fields, then record and use auto-text capabilities to insert
recognised text into report template fields. By combining an ergonomic hand microphone with PC mouse functions,
professionals will gain new levels of dictation speed, ease-of-use and productivity.